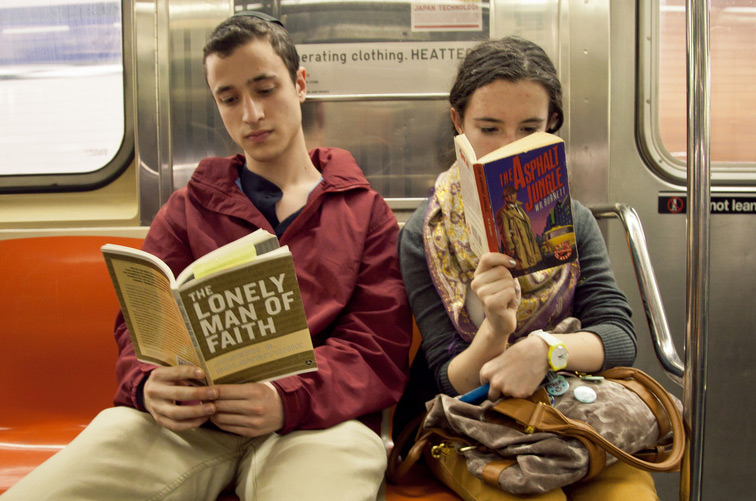 During the approximately two years during which I went through a
crisis of faith
, I spent a lot of time reading, as well as having conversations with many rabbis, academics and friends, in the hope of finding my way back to faith. Perhaps the most important piece of advice that I received was to go through the aspects of Judaism with which I was struggling, and figure out which, in fact, were essential to Jewish belief. Ultimately, I came to recognize that there was a much wider range of theological options available that could fit within a world of belief.
There was a time when Modern Orthodoxy was less doctrinaire. A perusal through the index of the issues of
Tradition
from the '60s and 70s shows that both in terms of content and writers, Modern Orthodoxy of that time had more theological room than does the Modern Orthodoxy of today. I will leave it to sociologists to evaluate the reasons for the change. Instead, I will talk about a way that we might go back to those more open days.
I begin with a discussion of a theory put forth by Thomas Kuhn about paradigm shifts in science. For those who are unaware of the theory, the following is a summation of the theory from an
article
by Rabbi Dr. Joshua Berman of Bar Ilan University:
A mature science, according to Kuhn's hypothesis, is one in which there exists a dominant paradigm—a conceptual framework that informs the scientist of what to expect as he engages in his or her scientific inquiry. It delineates the parameters of what can and cannot be considered acceptable solutions to a problem. Only that which conforms to the paradigm is deemed true. The training of scientists consists of inculcating them with the tenets of the paradigm, the rules of the game, before they embark on their own research. To engage in "normal science" is to endeavor to tie up loose ends and adjust the paradigm to reality. Paradigms introduce a sociological factor into science. To practice science is to engage the mysteries of the natural order not in unmediated fashion, but through the lens of the paradigm, itself a human construct. This dogmatic aspect determines who is considered "in" in the scientific community, and who is "out."
Inevitably, results will begin to arise that are inconsistent with the reigning paradigm. At first these will be dismissed and faults will be found either with the method employed or with the assumptions upon which they rest. As these bothersome findings persist and accumulate, however, a creative scientist will come forward to challenge the axioms of the paradigm and propose a new one that encompasses the "problematic" results as well in a systematic fashion. Because the old paradigm is but a human construct, it is subject to human foibles: its articulators will typically dig in their heels, and the new paradigm will gain traction only as the masters of the old one pass from the scene. New paradigms do gain influence, but only slowly

Essentially, once a theory is accepted by the scientific community, it becomes a type of dogma which can not be challenged. Those who offer such challenges are ignored and/or rejected. Only when the challenges become strong enough, does the theory change. Although we are talking about religion and not science, the comparison is instructive. Jewish theology changes with the times. Throughout our history, challenges from within Judaism or from other religions have caused Jewish theology to pivot, as it were. While traditionalists at first fought back, eventually the pressure became great enough that change occurred. Even then, the change happened slowly, and usually, almost imperceptibly.

We live in a time when belief in Jewish dogma is very challenging. In various ways, scholarly or not, there have been those who have talked of these challenges and offered new ideas. As in Kuhn's theory, these attempts have been rebuffed. Traditionalists have dug in their heels and insisted that certain beliefs are essential and not up for debate. Still, the attempts to spell out a theological approach that works for modern sensibilities, speak to some of the angst that is felt by many in our community.

So where do we go from here? Ideally religious thinkers from Yeshiva University, the institution that for many represents Modern Orthodoxy, would step into the void and try to address some of these concerns in a theologically sophisticated manner. Sadly, this has not been the case. Many of the roshei yeshiva are firmly in the traditionalist camp, and consider certain beliefs and concepts to be inviolable. Those roshei yeshiva and professors who are more open to modern sensibilities, have, to some degree, both in recorded lectures and in writing, addressed some of these issues, but there is yet to be an attempt at spelling out a full theology from those within the walls of YU. To some degree, some of the rabbis and students from Yeshivat Chovevei HaTorah have tried to bring about a paradigm shift, but in ignoring the idea contained in Kuhn's warning that change occurs slowly in science,a truth that applies to the world of Orthodoxy as well, these attempts have failed to gain significant traction. I would hope that the leadership of YCT would think about why a community that hungers for a sophisticated more modern approach, has not taken to their approach. In America, new attempts are coming from the likes of Michael Fishbane, while the Modern Orthodox world fails to produce works along the lines of Rav Shagar's works, which show how Orthodoxy might deal with the challenges of Post-Modernism.

Who, if anyone, will step into this void? If Modern-Orthodoxy is to stay relevant, a work will have to be produced that shows a level of theological sophistication, while, at the same time speaks to the layman. A new paradigm is needed for those, like myself, who passionately belief in the world of Torah and Mitzvohs, while at the same time recognize the challenges of the times in which we live.